Bifold Doors vs French Doors
So you are looking for some home improvements and you are not sure whether to install bifold doors or French doors to your home. Throughout this article we will discuss the differences between the French doors and bifold doors including the pros and cons of both, this information will hopefully help you to decide which door is more practical for you.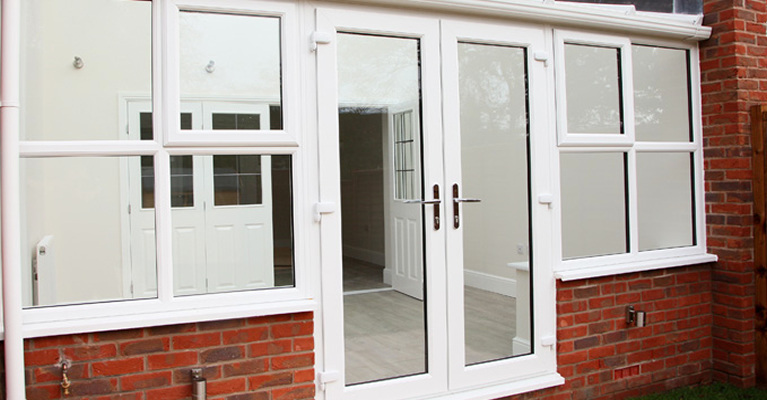 French doors are a classic design, the name itself shows sophistication and style. However, these doors are not suitable for every situation, they can even have certain drawbacks. This appears more apparent when comparing to a more flexible and secure bifold door. The main comparison between the two doors is quite easy to identify. For instance the bifold doors features multiple glazed panels, concertina back to back allowing a full opening without obstruction. These doors are often installed to the rear of the home leading out into the garden or patio. They are also often installed internally when dividing a room to a conservatory, the bi-fold door will allow the room to be fully opened or separated by either opening or closing the door.
French doors, generally comprise of two separate doors, which open outwards. These doors are often found in older style properties leading out to the patio or from the conservatory. For you to fully understand and decide which doors would best suit your home, you need to know how a set of bifold doors could really enhance your home. Bifold doors can be installed to the rear of a kitchen, this will now bring the garden into your property, increasing the general light into your home. The observation from your kitchen will be much clearer providing a panoramic view, giving a more attractive vision to your outside space. If you ever decide to sell your property, these bi-folding doors could quite easily add value to your property. Time spent in the kitchen will be more pleasurable, as a good view and natural light makes a huge difference!
In contrast, the only slight error regarding the bi-folding doors is when the doors are fully closed together, the panels between the glass break up the perfect view which is observed when the doors are fully opened. The advantage however, they offer the opportunity to fully open the complete side or back of your property when they are full opened and folded back. This affect could not be possible with French doors as they are made up with only two doors and the wall configuration.
When we look at flexibility, the French doors can only be hung and operate inwards or outwards. Bi-folding doors however, can be customised with many different door panels and designed to open in many configurations. French doors might be a much better solution for older style properties, or on those properties which cannot be opened up greater than the width of two doors. French doors also offer advantages of framing and glass styles, however bi-folding doors are increasingly popular even for older properties and extensions.
The main advantage of French doors is that they are a lot more affordable to install. If you currently live in a modern property which requires replacement French doors, then this installation is much easier and cheaper than installing bi-folding doors. As installing bi-folding doors would result in opening up a large wall, which replacing doors would be a lot more cost effective! However, if you decided to replace your French doors with bi-folding doors, this job would be half as complicated with half the opening already there.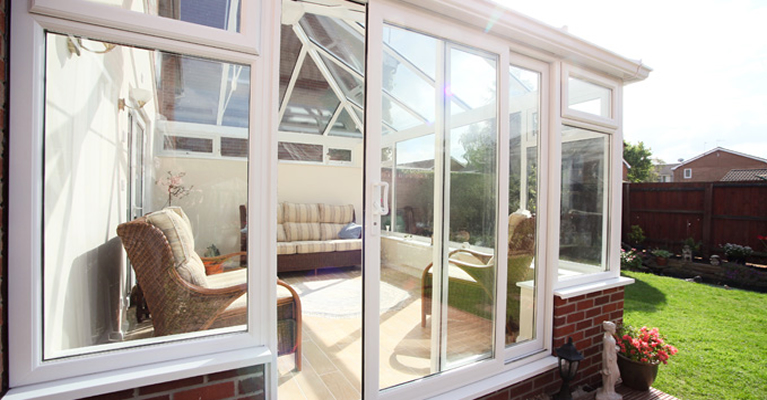 Bi fold doors versus sliding doors
While we explored the difference between the French doors and bi-fold doors which were quite obvious, the difference between the bi-fold doors and the sliding doors are not so apparent. However, there are many differences and we will explore these important factors which will help you understand the variances.
To start with, sliding doors tend to have large panes of glass, which slide behind one another. Offering the same kind of panoramic view as the bi-fold offers, but with less obscured pane areas as there are less doors than the bi-fold. Sliding doors tend to be less secure as they tend to lock from one point, while bi-fold doors lock from multiple points. These sliding doors regrettably provide a slight interrupted view, even when fully open, due to one door sliding behind the other, this prevents the doors from being completely open, compared to the bi-fold. Other aesthetic factors would include that these sliding doors cannot open completely, so the door opening area will always be partially restricted. The frames are often thicker to support such large glass panels.
Nevertheless, sliding doors are available with many configurations, i.e. one could slide behind the other, or two doors can open in the centre, sliding out over the other fixed outer panel. However, due to the formation of these doors, they cannot be installed into bays, so if you require a door for a bay area, then bi-fold doors are the better choice.
Another major factor of the benefits of bi-fold doors, compared to the French doors and the patio doors, is that the threshold is much lower and nearly flush. This allows the interior and exterior to remain flush. This prevents tripping which often occurs when stepping through patio sliding doors.
To summarise, bi-fold doors provide a wider, clearer opening than its rivals. Compared to the sliding doors, the bifold offers more framework and less glass, structural demands are also increased. They are both however brilliant options, but the bi-fold doors offer more flexibility, they are also safer and more desirable too.
Bifold Door Materials
When considering bi-fold doors there are three main types, we will discuss each option delivering the pros and cons for each of them. The materials themselves will also have a huge impact on the overall price of your door. The quality of the materials will impact not only on the look of these doors, but the maintenance and permanency. Whatever door option you decide to choice, the bi-fold door will remain the most expensive option, compared to the French or patio doors. The materials you choice for the bi-fold will also have a huge influence on the overall price.
Aluminium Bi-fold doors
Aluminium is the strongest robust bi-fold door option that you can choose. If you do not have a budget, then aluminium is the best choice for bi-fold doors due to its absolute strength. As aluminium is extremely strong, this means that the frames can be significantly thinner, providing a larger window space. Aluminium will never warp or bend when exposed to direct sunlight, they also have minimum maintenance too. Aluminium offers a huge range of RAL colours, allowing you to match these aluminium doors with nearly any colour scheme. Aluminium not only last longer, but looks better for longer too. The only problem with aluminium bi-fold doors is the actual price. But these prices are coming down due to the popularity of these doors.
UPVC Bi-folding Doors
UPVC is the standard option when looking for low-cost option with little maintenance required. UPVC (Un-plasticised Polyvinyl Chloride) is a brilliant choice. UPVC is not as strong as aluminium, however uPVC is still a stronger material, which will not warp bend or discolour when exposed to sunlight. So uPVC appears to be the perfect choice if you are looking for a bifold door whilst on a budget.
Wooden Bi-fold Doors
Timber is often used to build these bi-folding doors, which looks very attractive especially with various strains or colours. Timber bi-fold doors are made from a variety of different types of wood glued together in layers with polyurethane. Though these wooden bi-fold doors are far more durable than conventional wood, they still retain moisture which will eventually warp. Wooden bi-fold doors require a lot of maintenance far more than uPVC or aluminium.
Final Conclusion
Bi-fold doors are stunning and a fine alternative to French doors and sliding doors, which should not be disregarded due to the cost difference compared to its adversaries. Ultimately, these doors are definitely worth its price, allowing you to enjoy these doors for years to come!