Guardian Tiled Conservatory Roofs Peterborough
The GuardianTiled Conservatory Roof system is designed to be lightweight, durable, energy efficient with a built in fascia and soffit system. The Supalite tiled Roof system transforms your old conservatory into a room which looks and feels like a real extension at a fraction of the cost.
Guardian Lightweight Conservatory Roofs
The Guardian Replacement Tiled Conservatory roof will convert your existing un-useable conservatory into an all year insulated sunroom.
The problem that people have when looking for a replacement conservatory tiled roof is that the foundations for your existing conservatory are designed to support the conservatory glass roof or polycarbonate roof but not heavy weight roof tiles. Alternatives to this problem is to either knock the whole conservatory down and rebuild the foundations to support an extension roof tile, which is going to cost an absolute fortune or you can contact Posh Homes Limited.
We have many years' experience in removing conservatory roofs and replacing them with our Guardian state of the art, lightweight tiled conservatory roof.
We are based in Peterborough but we are serving clients in Cambridge, Huntingdon and East Anglia. We remove old conservatory roofs and replace them with lightweight tiled roofs, the transformation is unbelievable.
Many of our clients have had conservatories built onto their home over the years, these conservatories have sat empty due to heat retention in the winter and they feel like a green house in the summer. With our lightweight tiled conservatory roof replacement we have transformed conservatories into sun rooms. We have even extended kitchens into the conservatory, removing conservatory roof and replacing with our tiled roof replacement, combining these two rooms as if they were an extension. This means that these rooms are warm in the winter as heat loss is reduced, also cool in the summer as the sun is not transferred directly through conservatory roof.
Conservatory roof replacement
SupaLite conservatory tiled roofs retain heat during the winter period.
SupaLite replacement roofs will keep your conservatory cool on summer days as the tiled roof prevents direct sunlight entering through the roof.
SupaLite roofs are more secure than glass conservatory roofs, these tiles cannot easily be removed.
SupaLite roofs are less prone to leaks as experienced with lightweight polycarbonate conservatory roofs.
SupaLite tiled roofs disregard most noise such as rain, wind and outside noise.
SupaLite roofs provide a warm roof system keeping you cosy all year round.
SupaLite roofs are designed and tested to the standards demanded by the LABC
SupaLite roofs will allow you to use your disused conservatory again.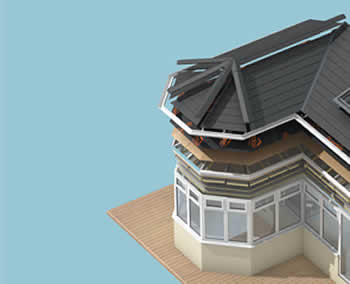 Tiled Conservatory Roof Vent
Guardian Tiled Roof Vents is one of the most popular finishing options to complement our replacement conservatory roof system. These sash windows open in a range of positions due to the well-designed centre pivot vents, allowing fresh air to draw into the room. The sash can rotate through 180° and lock, allowing the window to be cleaned inside and out. To maximise the overall light coming into the room, our windows are designed with much greater surface area than other window manufactures.