Patio Doors Peterborough
Patio Doors provide the perfect look while filling the room with natural light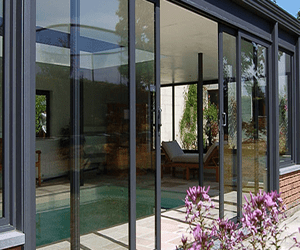 Our Patio Doors have frames and glass which are extremely energy efficient, with incorporated multi-point locking mechanisms which provide outstanding security. As with all of our double glazing and door packages, we offer various styles of patio door.
Patio Door Styles
We offer three main patio door styles which provide different aesthetics and functionality.
Sliding Patio Doors
These doors are often called gliding doors or bypass doors which are extremely popular. These doors allow a lot of natural light into the room and have easy maintenance. These uPVC Doors consist of two plus panels, at least one door is required to slide back and forth along the rollers. Fixed door panels can be combined to expand the length of glass.
Door Materials
These double glazed doors are available in the following materials: aluminium, steel, wood, vinyl, fiberglass, wood and clad-wood.