The owner of the property in Bretton wished to change their front door for a stylish new composite door. They used our composite door designer to create their dream door. They opted for a central three-piece glazed door which was obscured preventing intruders from seeing into the property, whilst maximising light into the passageway.
Composite Door before & after picture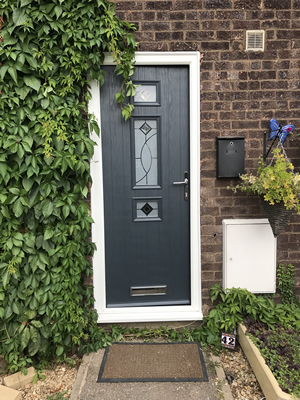 Composite Doors colour options
Composite doors are available in a huge variety of different colours. This allows the homeowners to create a bespoke composite door which will look different offering an individual design and style. Customising the colour of your very own front door allows you to person your taste and personality to the exterior of your home.
Solid colour options are extremely popular, these are the main colours that are added during the manufacturing phase which are applied to the door very evening. This offers an extremely smooth finish to the door. While the oak effect and even dark wood finish, generates a hand-painted wood grain effect for a more of a natural colour to the door.
Composite doors are manufactured with high gloss, with a UV resistant film giving an overall shiny appeal. There are over thirteen different colours to choose from. However, if you do find a rare colour that you like, we can create a coloured film to offer that coloured door for you. The most popular composite door colours are; poppy red, duck egg blue, black, brown, white, black, blue, red, green, cream, grey, and chartwell green. Or choose the most modern and popular Anthracite Grey, like this customer.
Composite Door Furniture
Adding the correct furniture to your composite door will create that touch of style and elegance. With a choice of different hardware colours such as; Chrome, Graphite, Gold, Bronze, Black, Antique Black or even White. So with this huge range of hardware colours, you will be certain to match your décor.
Composite Door Letter Plates
Our letter plates are available in a wide range of colours and sizes to meet the requirements for any style door. The 12in metal letter plate has an anti-snap flap built in, allowing the flap to open to 180 degrees, allowing an A4 size letter or paper to be posted. The letter plate which is fitted to the inside of the door, prevents burglars from opening the door via the internal thumb turn.
Composite Door Handles
Our contemporary door lever is ideal for any traditional or modern homes proposing a statement to any Peterborough home. All composite door handles are available in the same colour theme as the rest of our hardware. So your home will not just look good, but well secure as well.
Composite Door Pull Handles
Chrome handles have become extremely popular adding that finishing look to the modern door. These pull handles are very stylish, which are available in three different length; short, medium and long. These handles are available in stainless steel providing a popular choice to modern properties including new builds.
Door Knockers
With a choice between the urn (modern style) or bullring knocker (traditional style), or even the slim-line knocker for the more modern look. Many of our knockers are available with a built in spyhole for that increased peace-in-mind and security. All of our door knockers are available to match our other hardware such as letter plates and handles. This will propose a seamless finish to your composite door.
Replacing an electric box with a modern window frame
The homeowner opted for a replacement electric box due to its terrible appearance and poor security. The new window box opens out ways and with its stunning anthracite uPVC inserts, creates a stunning appearance that complements the new composite door.
Both window handles have a built in lock which increases security preventing anyone from tampering with their electricity readings. This but the window box had completely changes the overall look of the front of this property.
Whether you are looking for a replacement front door or even a creative electricity box, then contact Posh Homes. We offer some of the greatest composite door designs on the market, not only this but we aim to match or beat any other like-for-like quote as well.