Composite Doors vs UPVC Doors: Which is the best door for your home?
Whether you live in a modern or heritage Peterborough home, your front door will present your own personality and taste.
Your front door should be the focal point to your home. Creating a positive, relaxed impression that will welcome your friends, family and visitors into your home.
With many different designs and trends to consider it can be extremely difficult to choose the right front door. The most popular type of front door still remains the composite and uPVC doors. Both of these door materials offer the most stylish and function door on the market.
So when it comes to choosing between the composite doors vs uPVC doors, it can be a little perplexing! This is why we at Posh windows and doors Peterborough, have writing this blog to explain the difference between these replacement doors, so you can select the right one for your Peterborough home.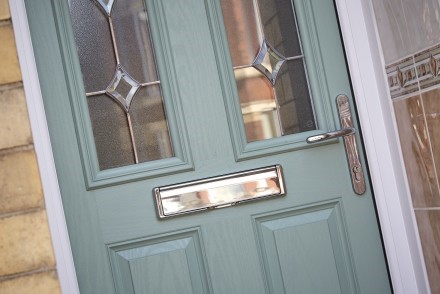 What is composite door made of?
Composite doors are manufactured from a variety of different materials, designed with a robust steel frame, with a timber core then filled with an insulated foam layer. This insulated foam inner layer offers an outstanding u-value. All materials are then glued into place then wrapped with a Glass Reinforced Plastic (GRP) membrane. These composite doors are manufactured under high-pressure conditions, offering an incredibly robust and secure door which will resist any weather condition.
What is the UPVC door made of?
UPVC doors are manufactured with an insulated steel frame which is encased in un-plasticized polyvinyl chloride (UPVC). The uPVC creates a strong thermally efficient sealed unit, which can resist any Peterborough weather condition. These uPVC doors look very different compared to the composite doors, they have a more of a plastic finish. But as they are slightly cheaper than its rivals, makes it a perfect solution when it comes to replacing your doors for a stylish affordable door.
What is difference in price between the UPVC doors and Composite Doors?
When it comes to choosing between both types of doors, the composite doors will always be more expensive. If you consider the same kind of design between both doors, you will probably pay 40% more for the composite door. So why pay more for a composite door? Simply because the composite door is manufactured with a more sophisticated system. The materials and technology which is used in production is much more costly than the uPVC procedure. Though initially you may be paying a little more for the composite door compared to the uPVC, but you will get a much better styled door, greater insulated, not forgetting security for your home.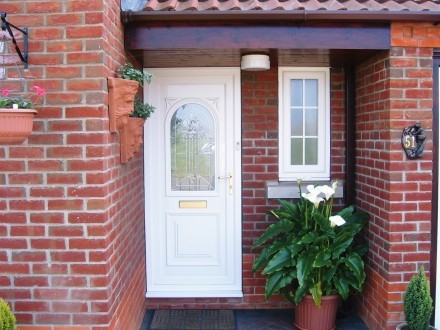 Door Security
Many people think that because uPVC doors are much cheaper than composite doors, then this will affect the security and quality of the door. This however is far from true. UPVC doors are astoundingly strong, secure and robust. This is achieved due to its extremely strong outer frame, not forgetting its multi-point locking mechanism. So when you combine these components together then you are creating a very strong door.
However, when we talk composite doors, then we are taking the door to another level. Composite doors have a glass-reinforced plastic core commonly known as GRP. This outstanding outer layer offers a high level of robustness and security.
Though the composite door does offer that extra quality and security, it still would be extremely difficult for any burglar to break through either of these doors.
Door Thickness
Composite doors are created much thicker than the uPVC, this itself offers increased insulation and stoutness. A common composite door will normally be manufactured to 44mm in thickness, while the uPVC is normally around 28mm. This enlarged thickness allows increased flexibility when it comes to style. Not forgetting that sturdy robust feeling when you open and close the door. However, both door designs are extremely resilient and offer outstanding insulation not forgetting a huge range of designs.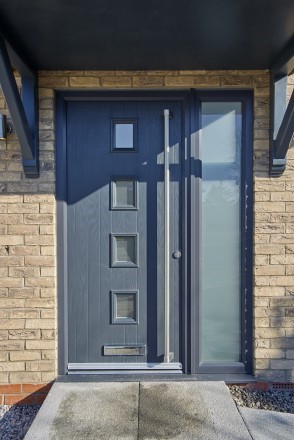 Door Maintenance
When it comes to door maintenance both uPVC doors and composite doors are both near enough maintenance free. All these doors require is a quick wipe down with a damp cloth, otherwise you could use an uPVC cleaner to get rid of those unwanted marks.
Door Warranty
Both doors come with a 10 year guarantee. However, the composite door will be expected to outlive this warranty and should last for around 30 years. While the uPVC door should last around 20 to 25 years, however this will purely depend on the quality of the door, how it is installed, and how you take care of it!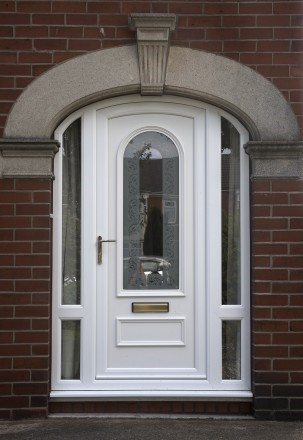 Door Design, Colour Range and Styling
When it comes to the uPVC one of the main characteristics that distinguishes this door is the plasticity finish. Whilst the composite doors offer a more sophisticated timber appearance and style.
When it comes to colour range, though the uPVC range is extremely good, the composite door range is outstanding as you can even match near enough any RAL colours. Both doors do offer an extensive range, they also offer duel range which means that you can have a different colour inside to outside.
In regards to door furniture, there is not much difference at all. They both offer the same range in handles, letterbox's, knockers and spyholes. They also offer the same range in glass, so whatever the furniture, both doors are outstanding.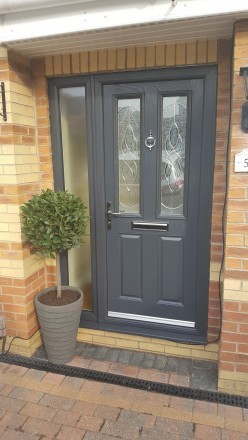 Door Thermal Efficiency
As mentioned earlier the composite door out ranks the uPVC door in thermal efficiency by miles. It is achieved due to the composite doors extra thickness and the GRP outer layer. But do not under estimate the uPVC doors performance, as both doors will keep the heat in whilst preventing unwanted draughts.
The composite doors also offer brush seals and weather proof gaskets, which will illuminate any weather from entering your home.
Summary – Composite doors vs UPVC Doors
When deciding which type of door would be best suited to your home, then you must weigh-up every factor.
Both doors are extremely low maintenance as they are mutually well insulated doors. When it comes to security, the composite door has additional security features, however they will both keep out the burglars.
UPVC Doors: Much cheaper than the composite doors, thinner and plastic appearance, but offer style which is affordable to most households.
Composite Doors: Offer a traditional timber appeal, whilst proposing functionality, sophistication and elegance. Composite doors are conversely more expensive than the uPVC doors. But this small additional cost outweighs the advantages that these doors do provide.
All households have their own character, so when it comes to replacement doors, it takes a lot of thought and effort to decide the right door. The price might play an important part when choosing between the uPVC door range and the composite. But so should you own preference and finesse.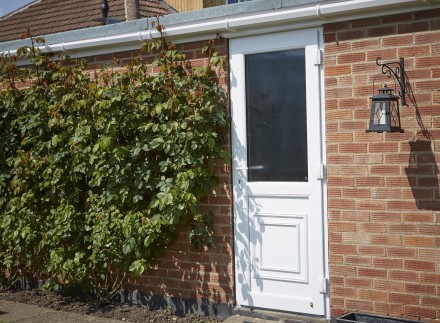 When it comes to back doors and garage entrance doors, then the uPVC doors are extremely popular. As these doors are hardly seen, so functionally and security are the main considerations.
So whether you require a composite door or uPVC door contact Posh Windows and Doors Peterborough as we have an extensive range which will make your home look stunning!