Why buy a Composite Door!
We understand how difficult it can be to choose a new front door for your home. Over the recent years composite doors have become increasingly popular which makes choosing a door even harder! When choosing a new composite door there are many factors that are important, such as the style of the property, security features, not forgetting energy efficiency. With all of these factors to consider, where do you start from?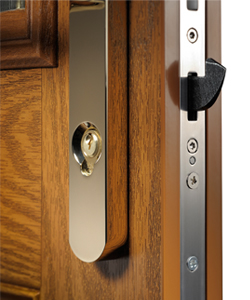 What are Composite Doors made of?
Composite doors are made up from a variety of different selected materials. The frame is usually made from reinforced stainless steel. While the inner-core has a solid timber core, then filled with a thermos-insulation. A GRP (glass reinforced plastic) outer layer is then used to seal these components together creating the ultimate composite door! The GRP is both scratch and scuff resistant allowing you composite door to look stunning for many years to come. Composite doors are extremely strong and secure doors. These doors are available as front or back doors.
Our composite doors are manufactured with a solid timber structured core with a galvanized steel reinforced profile. For additional home security we install as standard a multi-locking mechanism, offering the best home security.
Our doors are so secure they are even stamped with Secure by Design (police initiative in preventing crime). They are also extremely weather resistant and will not react to seasonal change like cheaper alternatives. These composite doors will not warp, discolor or rot. Composite doors are also very energy efficient as their thermal resistance is much greater than wooden doors or uPVC.
The Composite door has the appearance of a traditional timber door, however has many additional benefits such as it will not fade, discolour or even require much maintenance. All it requires is a quick wipe down with a damp cloth to remove dirt.
Composite doors are becoming the standard front door for any new building developments. They are also popular for property renovations due to their long-term benefits including heat retention, home security and noise reduction.
So if you are looking for a replacement front or back doors and require good security, long lasting and highly insulated door, then look no further than a composite door.